Product Overview

Product Features

Solution Finder

Promotion & Price

Who's Using ?

Why XLink?


Omni-NFS Gateway

new version!

Version 4.1 for Windows NT Server
(GT-101)

NFS Gateway Exclusive Features

The only package on the market to support Microsoft OPLocking (Opportunistic Locking) Read-Ahead Cache Scheme to boost performance. new!
The only package to support Multiple drive letter assignment with different access rights assignable to one physical drive for differing levels of user access on the same drive.
The only NFS package to support Automatic Windows-UNIX file conversion.
The only NFS Gateway pakcage to feature Automatic File Change Notification.

With Omni-NFS Gateway, Windows NT Server can "re-share" the mounted NFS resources to all authorized UNIX Clients as their respective native network drives.
Omni-NFS Gateway is built based on XLink's time proven Omni-NFS Client technology and works in conjunction with Microsoft Windows TCP/IP.

Other Features

Runs as an NT Service, no logon needed to provide service to clients.
Supports FAT, NTFS, CDFS, HPFS file systems.
Drive Mounting Wizard to simplify resource definition process.
Auto NIS Server searching.
Auto NFS Server searching.
Much, much more....

Centralizing administrative tasks, lowering overhead, easing security implementation, are just a few of the advantages of the new Omni-NFS Gateway for Windows NT Servers.

Integrating Windows and UNIX platforms with NFS Gateway, system administrators can eliminate hours of client workstation installation time because only one installation of NFS Gateway software on one NT Server is needed. One installation and all other Windows workstations automatically become connected into the UNIX network.

The Omni-NFS Gateway literally allows an NT Server to act as a gateway between the Windows-based workstations and NFS files/resources that utilize industry-standard NFS protocol. It achieves this by attaching itself to the NFS files/resources then shares the devices to the workstations as if the devices were its own. The gateway actually becomes a translator, translating NFS protocol to standard Microsoft Windows networking server message block (SMB) protocol. By doing so, system administrators have more control, users can gain access to UNIX files without having to learn anything new, Windows and UNIX users have transparent access to files without having to duplicate the files into their own stations, and security measures are easier to enforce since all individual workstation identities (UIDs) are mapped to NFS accounts.

When Do I Use Gateway?

The question concerning when one should use a gateway system often arises in todays PC-to-UNIX connectivity network planning. Since the entire concept of gateway is still fairly new, it often goes unanswered. Let's say, for example, that an NFS network situation arises where there is a 300-user site and one needs to provide access for all 300 users. However, at any giving moment in time, only a handful of those 300 users actually need NFS access at the same time…say 100 or less. Well, instead of purchasing 300 separate NFS Client licenses for each user's workstation, simply purchase one gateway license that allows up to 100 users to access NFS at the same time (concurrent user). What this does is that it cuts installation time as well as software cost. (Not to mention every day administrative headaches). All 300 users can now have access when they want to as long as the number of simultaneous users doesn't exceed 100 users. Of course the maximum number of users allowed is flexible depending on application and is usually defined at the time of product purchase. And if a particular user in the setup is a network intensive individual that needs frequent unfettered access to NFS, simply install an NFS Client on that particular workstation without fear of conflicts with the NFS Gateway.

The following diagram is an illustration of what the Windows client workstations sees in the Windows native naviagtion tools (network neighborhood, Windows/NT Explorer). The users can simply point and click away. (all while not having to install any NFS Client software)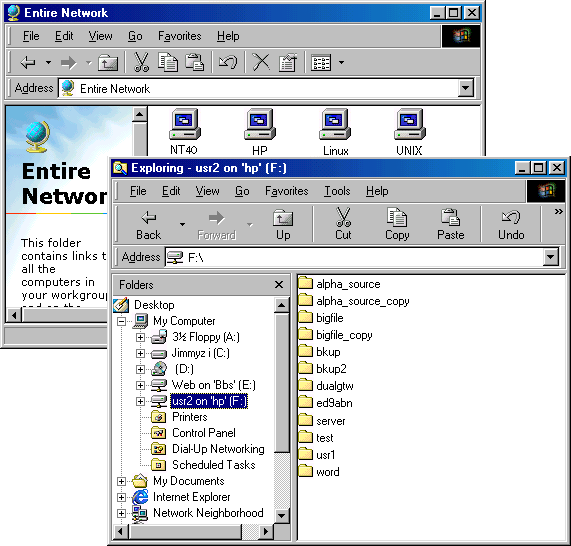 Installation/Uninstall Ease

Installation or uninstall is a cakewalk because Omni-NFS Gateway utilizes the Windows installation shield. The administrator simply has to follow the directions of the installer step by step. Omni-NFS Gateway achieves this ease of installation by using Microsoft's native TCP/IP protocol stack and utilities, which reduces third-party compatibility problems tremendously. After the gateway is installed, the administrator then verifies and maps the NFS directories and print resources to begin the "translation" that allows Windows clients to browse the NT server. After installing the gateway, the system is now accessible by all types of network clients including: MS-DOS, Windows 3.x/95/NT systems, and Windows for Workgroups. No additional software is required on the NFS host system.

Simple Upgrades

When it's time to upgrade Omni-NFS Gateway, you simply update the NT server which eliminates the hassle of updating NFS client software on every client workstation. Client systems do not have to run dual-protocol stacks or deal with memory or disk limitations.

Secure Access

The Omni-NFS Gateway system utilizes reliable encrypted security that is also native to the Windows network environment. With this secure pass-through to the NFS servers via the NT server, clients can mount and browse as needed. With this capability, gateway is ideal for such applications as school campuses and dial-in sites where users can maintain separate UIDs while they access the NFS resources remotely or locally. All NT mounting security measures are easily controlled by the NT administrator, while all NFS connection and file access security measures are controlled by the NFS administrator.

Technology

The Omni-NFS Gateway technology is based on XLink's Omni-NFS Enterprise for Win NT/98/95. By expanding the functions of the client software, gateway fully integrates NFS into the Windows environment. By using the enterprise software, XLink's gateway is able to inherit the numerous other applications already found on the NFS Enterprise software. By working seamlessly with the Windows Network Neighborhood and Explorer, gateway allows the user to access mount points at multiple levels which permits a wider range of flexibility for users. Throughput is maximized with the full support of NFS v3.0 and 64K read-and-write packets. Performance can be controlled by a variety of variables: dividing users among numerous gateway servers, increasing speed with high speed/multiple processors, and utilizing higher speed networks. Bottom line is that the Omni-NFS Gateway makes the job easier for everyone.

Solid Support

With our focus on total customer satisfaction, the Omni-NFS Gateway, as with all XLink software, comes with a 90-day Free technical support as well as step by step "live" support through installation should you have a problem during initial installation.

---

Feature & Benefit

Supports Microsoft OPLocking (Read-Ahead) Caching mechanism to Enhance performance. new!
Transparent access to NFS resources
Zero memory and disk limitation for NFS Client
Centralized network control for NFS administrator
One-to-one or many-to-one NFS resources mapping
Auto-mapping
Secure access with separate user identity
Drive usage monitoring for Administrators
Controls the number of users allowed to access each NFS drive
Performs individual user UID & GID mapping
Separate UID & GID mapping for each UNIX server
LPD Printer Server
Group Mapping
Mount Wizard
Auto NIS Server searching
Auto NFS Server searching
Selection of NFS 3.0 or NFS 2.0
Bi-Direcitonal UNIX to DOS ascii file conversion

---

Component List
(Click on the component name for detailed information)

NFS Gateway
NFS Gateway enables you to access UNIX resources and re-share them to other Windows clients.
NFS Printer Client
NFS printer client allows to print jobs to the remote NFS Printer Server.
FTP Client
FTP client allows users to simply transfer binary and text files and directories between a PC and a remote computer.
FTP Server
FTPD utility allows you to configure Windows NT or 98/95 to become a FTP server. It provides the tools necessary to set up user accounts with assignments of a home directory and access permission.
LPD printer server
LPD accepts print jobs from many host or users on the network, queues these jobs and sends them to any locally attached printers.
LPR printer client
LPR allows local PC files to be printed on remote printers. XLink's LPR Client on Gateway package allows administrator to re-share the LPR printer to all other windows clients.
VT420/320/220/100 terminal emulation
Full featured terminal emulation program which allows you to connect and communicate with hosts that support VT420, VT320, VT220, VT100, and VT52.
Tape Backup with Tar
Backup and restore using UNIX tape and floppy drives from Windows NT or 98/95.
Wrsh
Execute commands without login into remote host.
LPR Hosts
Printer database editor in which remote LPD servers are defined.
UUcode
Uuencode and uudecode utilities.
Finger
Find information about users in the remote UNIX account.
Host Editor
Create host database which is used by all applications.