Description 3.2 | Nouveautés 4.0 (encore en bêta)
Depuis le 01/01/02, les gammes LittleBrother et ISDN Accountant ont été remplacées par Superscout et Cyberpatrol, toutes éditées par SurfControl. En attendant la mise à jour des pages LittleBrother sur www.osinet.fr, contactez-nous pour toute question sur ces produits, ou consultez les informations tarifs SuperScout en ligne. La gamme CSM Enterprise, qui subsistait en 2001 a également été remplacée.
Les grandes nouveautés de la version 4.0 : contrôle du courrier électronique, notation automatique des sites, redirection des browsers, messages de blocage des browsers, rapport de bande passante, de synthèse, de performance, arbre de configuration réseau, amélioration des rapports d'adresses IP.
What is LittleBrother?
Key Features
Reporting Capabilities
Key Benefits
Key Advantages
System Requirements
Technical Support
Who's using your Internet bandwidth?
As the popularity of the Internet has grown, it has become an essential tool for organizations to use to rapidly locate business critical information.
However, it is very easy for employees to spend a lot of time during work hours using the Internet for non-business related purposes. Many organizations report users visiting such places as shopping sites, updating their stock portfolios in real time, tracking sports events or more questionable activities, such as browsing the myriad sex sites on the Internet. It is not uncommon to find people using the Internet this way for hours at a time.
This type of Internet usage, which can be innocuous yet widespread, can easily become costly to organizations in terms of lost productivity and missed opportunities. LittleBrother is the solution that ensures the Internet/Intranet is used in a productive manner.
LittleBrother Provides Complete Solution to Reduce Internet Misuse
LittleBrother is an Internet/network productivity solution to allow supervisors in an organization to accurately manage and measure their Internet and network resource usage and help ensure productive use of the Internet/network. Providing users with timely information about their network utilization, this product allows businesses to make reasoned decisions about what kinds of activities are allowable on their networks. The software provides clear reports on what is happening on your network, for example: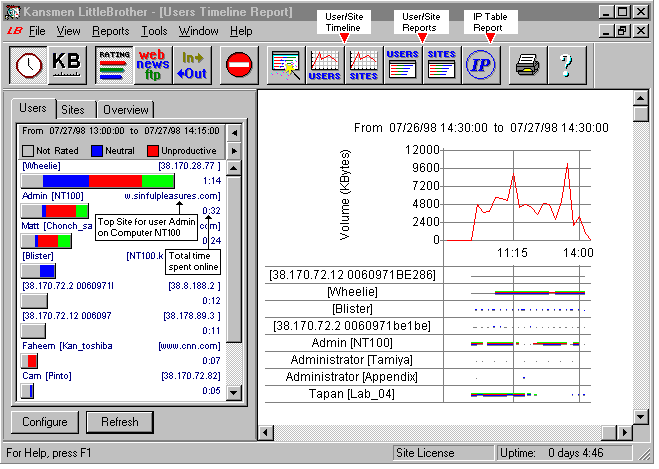 This screen shot shows the most active users for the last hour on the left side. The Timeline report, on the right side, shows the time spent by each user on the Internet and the total Internet bandwidth utilization.
LittleBrother is sophisticated, yet easy to use software that tracks Internet usage and makes your WAN bandwidth more productive
LittleBrother can keep track of who is visiting which Internet site and the length of visit. With rules added, your company's Internet access policy can be enforced to make your WAN bandwidth more productive than ever before. View LittleBrother Press Release to see how LittleBrother Software products can simplify your Internet access management.
Monitor Internet/Network Traffic
LittleBrother Software's LittleBrother monitors Internet usage on LAN, blocks sites and summarizes the usage in various reports. It runs under Windows NT or Windows 95/98. LittleBrother keeps track of WWW, FTP, and newsgroup usage by user, site, protocol, bytes transferred and time spent.
Bandwidth Utilization
With LittleBrother, supervisors can see how much bandwidth is used for each application (Web, FTP, Telnet, Mail, News, etc.), who uses the most resources, and which sites are visited the most. This gives supervisors a better idea of their WAN utilization and users' Internet usage patterns. With the reports on hand, important decisions can be made whether to increase WAN bandwidth, or direct some users to other WAN links for Internet access.
Monitor Network Application
LittleBrother can perform both Internet and network application monitoring. It monitors Internet applications such as Web, FTP, Telnet, Mail, and Usenet. It also monitors network applications such as NetWare file transfer, Microsoft file transfer, Oracle, and Sybase.
Block Unproductive Site
Supervisors can specify rules to block certain unproductive sites during working hours for an individual or a group of users. Based on various Internet traffic reports, supervisors can further limit particular Internet traffic on the network so that business traffic will not get affected. LittleBrother will automatically send an alert message to users who violate company Internet access policy and log that violation. LittleBrother categorizes most Internet sites to about 50 categories ranging from business and sports to on-line shopping. Supervisors can rate these sites and categories as productive, unproductive and neutral so that they can control which sites can be visited during business hours.
Reports
LittleBrother provides report wizard to assist you in generating various reports based on Internet application protocols, users and sites. A query tool is also available to generate custom usage reports.
Internet sites are categorized and rated as productive or unproductive
LittleBrother classifies most Internet sites into more than 50 categories that allow corporate supervisors to determine which are productive and which sites are unproductive for each business, according to their industry and business needs. LittleBrother rates the user's Internet activities as either productive, unproductive, or neutral based on configured settings.
Enforce Internet access policy to block unproductive activities
The supervisor can formulate a enterprise-wide and/or department-wide Internet policy to enable appropriate Internet access for appropriate groups of users according to their needs such as:
Who should have access to certain categories/sites
Who should be denied access to certain categories/sites
Block network games

Resource management

LittleBrother provides details and summary information on how the Internet/network is used, and it determines how effectively it is used.

Alert administrator of unusual activities

LittleBrother generates different alerts based on users' activities and network resource usage. It allows the supervisor to set alarms for excessive or unwanted usage, intruder, and security breach by providing various types of alerts to monitor unusual activities such as:

Excessive Internet/network usage
Excessive uproductive activities
Unusual heavy trafic occurring at night
Each user's usage over the allowance
New user
New site

Generate reports in an organized, easy to read form

LittleBrother generates reports on usage statistics such as:

Most active users
Most productive/unproductive users
Most popular Internet sites
Most productive/unproductive Internet sites
The busiest hours
Traffic usage distribution
Detailed traffic usage
Download usage
Attempts to access restricted/blocked Internet sites
Who is exceeding the usage limit
Detailed access information in URL log

Baseline Comparison

Many reports allows you to do a comparison of the data. You can compare a month to month traffic pattern. This can help you spot any abnormal traffic patterns.

Cost Analysis

Cost Analysis allows you to attach a cost factor to the Internet traffic. This allows you to get a fair estimate of how much each user Internet access costs. It is best suited for calculating the cost of lost productivity.

Show Traffic by Groups

You can generate reports on groups and users. By showing traffic by groups, you can easily show how each department uses the Internet.

Access Compatible Database

LittleBrother's database is now able to be opened using Microsoft Access, so custom reports can easily be created.

Browser Access to Reports

Reports in LittleBrother can now be accessed via a frames-compatible web browser. Shown below is a Top Talker report. All reports can be viewed using the web browser, by simply typing in the IP address of the machine running LittleBrother.

Scheduling of Reports

You can create a schedule to generate reports periodically such as on a daily, weekly, and monthly basis. You can specify whether to send the report via email or save it to a file.

Report scheduling is best suited for unattended operation. This allows greater automation and saves you more time and money.

Access Log Report

This new report shows how users access the Internet and indicates all of the URLs the user visited.




Users/Sites Timeline Report

These reports show how each user spends his/her time accessing different sites in the Internet compared with the total Internet bandwidth utilization.

Top Talker Report

This report shows the most active users. Each bar represents a user and the most active site for that user on the right hand column. The number on the right column specifies how long each user stays during the specified period. The color of the bar indicates how the site is rated.

This report shows the most unproductive users and the associated cost of such lost productivity. This report is created with both the Cost Analysis and Baseline Comparison options selected.




This report shows the most active users in the Quality Assurance group.

Top Sites Report

The Top Sites Report lists each site that is accessed by users. It is measured either by time or volume.

This sample report shows several different types of network application traffic such as: E-Mail and Web.

Overview Report

This Overview Report shows the overall Internet traffic pattern of your LAN. It divides all Internet traffic into four different ratings: Productive, Unproductive, Neutral, and Not Rated.

Daily Overview Report

The Daily Overview report lists each day's usage overview in a row. Each day's usage is rated into the following divisions: productive, unproductive, neutral, and not rated. This report gives you an overview of how productive (or unproductive) your Internet access is each day. The report can show either the top user or top site in each rating division.

This report shows the daily overview of the Internet access by groups.

Summary By Day

This report shows the daily summary in terms of unproductive traffic and the associated cost of such lost productivity.

IP Table Report

The IP Table report lists each computer discovered by LittleBrother. The report shows the properties of each computer such as: IP Address, Machine Address, Computer Name, User Name, and LAN Adapter Vendor used in the computer.

Save money on wasted employee time
Save money on unneeded equipment
Protect from harassment suits
Identify bandwidth waste
Ensure productive use of the Internet/network
Analyze Internet/network traffic and application
Block unproductive site
Audit Internet/network activity
Justify and plan for increase capacity
Set and enforce Internet/network usage quota
Set and enforce Internet policy
Alert of unusual activities
Automation to allow unattended operation
1. Plug & play
Requires only a PC with Windows NT or 95/98
Installs and runs properly in minutes
Does not require any reconfiguration of the network or or individual PCs, which can take days or weeks
2. Low cost of ownership
Easy to use.
Does not require a network professional to setup or maintain
Runs on existing hardware. Does not require a new or dedicated PC
Does not require additional software such as a server or firewall
3. Fail safe
Runs unobstructively (passively) in your current network
Does not slow down your network
Will not become a bottleneck that is in danger of bringing down the whole network
Minimum Pentium 200 with 64MB RAM
Recommended PentiumII 266 with 128MB RAM or more
Microsoft Windows 95, 98, NT 4, 2000 (LittleBrother 4.0)
Network interface card with TCP/IP connection
Workstation must be directly connected to the LAN being monitored
50MB of available hard disk space for installation
2GB of available disk space for archived log files
When you buy LittleBrother products, you get a 30 day warranty and full installation support via telephone or email.
You may extend your product support by purchasing one or more years of our comprehensive maintenance package, which includes:
Ongoing software updates/upgrades
Scheduled site database updates, which happen every two weeks
Direct vendor technical support via telephone or email
Site database warranty
LittleBrother Software recognizes that it will not be able to classify all Internet sites for everyone. However, we do provide a service to our customers to rate those unclassified sites. Send us your sites database; and we will classify them and release them as part of our regular bi-weekly site database update.
New Features of LittleBrother 4.0
HTTP Web Browser Blocking Message
Ability to block all unproductive sites
Web Browser Redirection
Email Monitoring which includes:
- who the email is TO and FROM
- subject, size, date and time
Bandwidth Reporting
Network Overview Reports
Network User Performance Reports
Network Configuration Tree
Improved IP Report
Ability to rate unrated sites automatically